How Does ZALTRAP®
(ziv-aflibercept) Work?
ZALTRAP is used together with chemotherapy. Tumors depend on new blood vessels to grow. Without these blood vessels providing nutrients and oxygen, the cancer cells cannot grow. The VEGF (Vascular Endothelial Growth Factor) family contributes to the growth of new blood vessels. ZALTRAP binds to VEGF family members VEGF-A, VEGF-B, and PLGF, which may help to block the growth of new blood vessels. This includes normal blood vessels as well as blood vessels that supply tumors. Medicines that work like ZALTRAP are called anti-angiogenics (an-gee-oh-jen-icks).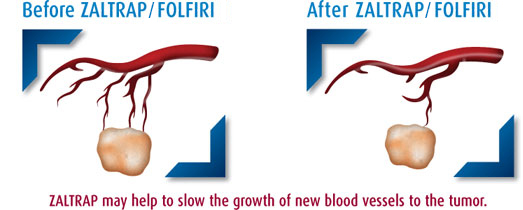 -
IMPORTANT SAFETY INFORMATION
Patients treated with ZALTRAP have experienced serious side effects. Your doctor may adjust or stop your ZALTRAP treatment if you have these or other side effects:
Severe Bleeding (Hemorrhage). ZALTRAP can cause severe internal bleeding including bleeding of the digestive system, brain, or lungs. Signs and symptoms may include blood in the stool or urine, abdominal pain or lightheadedness.
Gastrointestinal Perforation. ZALTRAP can cause a hole in the stomach, esophagus, or intestines. Symptoms may include abdominal pain, vomiting, fever, and chills.
Wounds That Don't Heal (Impaired Wound Healing). ZALTRAP can interfere with wound healing. Do not undergo surgery or medical procedures (including tooth extractions) without discussing first with your doctors, as ZALTRAP should not be used at least 4 weeks before or 4 weeks after surgery and until the wound is fully healed.
A Fistula Could Form in Your Body. This is an abnormal passage that forms from one part of the body to another.
Hypertension (High Blood Pressure) may develop or get worse. In clinical trials, over half of patients treated with ZALTRAP who developed high blood pressure requiring treatment developed it within the first 2 cycles of ZALTRAP treatment. Your doctor will monitor your blood pressure regularly during treatment. Take anti-hypertensive therapy as directed by your doctor. Signs of high blood pressure may include severe headache, lightheadedness, confusion or similar neurological disorders.
Arterial Thromboembolic Events (Blood Clots That Form in Arteries). Blood clots can form and travel to the brain and cause a stroke; or to the heart and cause severe chest pain or other heart damage.
Too Much Protein in The Urine (Proteinuria). This may be a sign of kidney damage. Your doctor will monitor your urine protein levels during treatment. Signs of severe proteinuria may include swelling of the feet, hands, face, or abdomen.
Low White Blood Cell Count. This could lead to serious infections. Your doctor will monitor your white blood cell count regularly during treatment. Fever may be a sign of low white blood cell count and serious infection. Check your temperature regularly during treatment and tell your doctor if you have a fever.
Severe Diarrhea and Dehydration. Severe diarrhea can occur, especially in patients 65 years of age and older. Severe diarrhea (including vomiting) takes fluids from the body and can lead to dehydration.
RPLS (Reversible Posterior Leukoencephalopathy Syndrome). This is a very rare but serious brain disorder. Signs and symptoms include headache, seizures, visual changes and changes in mental function. These symptoms usually stop or improve within days, but some patients experienced continuing changes in mental function or death.
Embryo-Fetal Toxicity. If you are pregnant or plan to become pregnant, tell your doctor. ZALTRAP can harm your unborn baby. If you are able to become pregnant, use effective birth control with ZALTRAP and for 1 month following the last dose.
Before Receiving ZALTRAP, Tell Your Doctor If You:
have had bleeding problems, blood clotting problems, or are taking blood thinners (called warfarin [Coumadin®] or heparin) for the treatment of blood clots
are or have recently been coughing up blood
have gastrointestinal problems such as gastric ulcers or diverticulitis, or history of prior perforation of the intestine
have had a tooth extracted or any other surgery within the last 4 weeks, if you have a surgical wound that has not healed, or if you are going to have an operation or a dental or medical procedure
have high blood pressure
have heart or circulation problems, or history of stroke
have kidney problems
have history of seizures
are allergic to or have had a reaction to any medicine
had recent treatments for cancer that your doctor is not aware of
are pregnant or plan to become pregnant. ZALTRAP may harm your unborn baby.
are breastfeeding or plan to breastfeed. It is not known if ZALTRAP passes into your breast milk. Do not breastfeed while receiving ZALTRAP therapy and for one month following the last dose. If you are able to become pregnant, your doctor will give you a pregnancy test before you start treatment. Use effective birth control with ZALTRAP and for 1 month following the last dose.
The most common side effects of ZALTRAP include:
Low white blood cell count (leukopenia, neutropenia)
Diarrhea
Too much protein in the urine
Increase in liver enzymes
Painful sores in the mouth
Feeling tired and weak
Low blood platelet count. Tell your doctor if you have any unusual bruising or bleeding
Increased blood pressure
Weight loss
Decreased appetite
Nose bleed
Stomach (abdominal) pain
Change in voice (hoarseness)
Changes in kidney function
Headache
Tell your doctor if you have any side effect that bothers you or that does not go away. These are not all the possible side effects of ZALTRAP. For more information, ask your doctor or pharmacist. You may report side effects to FDA at 1-800-FDA-1088.
Please see full Prescribing Information.